During your pregnancy, your diet is important to maintain a healthy digestive system and the fiber in this recipe will help you avoid constipation during your pregnancy.
Banana is a healthy food choice that has several benefits and essential nutrients such as, DHA for your baby's eyes and brain development, folate which helps prevent brain and spinal defects in babies, and Vitamin B6 that can ease morning sickness.
Serving: 1
Prep Time: 5 minutes
Cook Time: 10 minutes
Total time: 15 minutes
Ingredients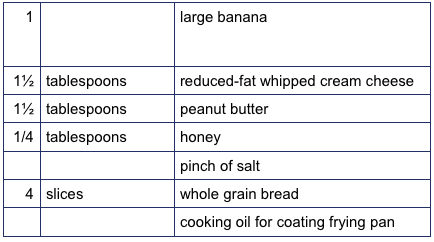 Directions
1. Cut off one quarter of the banana and mash it in a bowl with a fork.
2. Stir in the cream cheese, peanut butter, honey, and a pinch of salt.
3. Spread the peanut butter mixture over two slices of the bread.
4. Slice the remaining banana in half lengthwise and then in half crosswise.
5. Coat a large frying pan with cooking oil and place it over medium-high heat. Lay the banana slices in the pan and cook until golden in color. Arrange the bananas on top of the peanut butter mixture and top with the remaining two slices of bread.
6. Wipe out the frying pan, coat it with cooking oil, and place the pan over medium heat.
7. Add the sandwiches and cook until nicely toasted, about 2 minutes, flip the sandwich so that it toasts evenly on each side.